In this article, Mehshan Interiors will cover all the information that you need to know before buying a dining table. Here is the complete guide to dining tables and how to Choose the Perfect One for Your Home. We'll talk about different shapes of tables, materials, and more!
A dining table is a piece of furniture that is used to serve food to the people seated at it. It can also be used as an item of furniture for its aesthetic purposes.
A dining table is a place for family and friends to gather, eat, and enjoy time together. It's also the centerpiece of any room. A good dining table should be sturdy but attractive and well-made. There are many different types of tables to choose from round, rectangular, or oval. With a little research and consideration, you will find the perfect one for your home!
What is the best type of dining table?
There are three main types of tables: round, rectangular or oval. Round tables are usually seen as more formal than rectangular ones because they are not as deep so there is less space between chairs which can make conversation easier. Rectangular tables provide more space between chairs which can be better if you have a large family or want to include extra chairs around.
The dining table is the heart of every home. It is where families gather to share a meal and enjoy each other's company. But choosing the right dining table can be overwhelming, especially if you're not sure what type of table will work best in your home.
This guide will help you find the perfect dining table for your space, style, and budget.
Dining Table Size: The size of a dining room can determine which type of table to purchase. If you have a small space, it might be best to go with a round or oval table that can be easily tucked away when not in use. If you have more room in your home, then you choose any designs which suit your place.
Types of Dining Tables:
There are many different types of tables to choose from, including round, rectangular and oval.
1. Round Tables:
Round tables are the most common type of table in homes, but they work best when they're not the only table in the room. They look great with chairs around them and even better when they're used in conjunction with other types of furniture like a sofa or chair arrangement.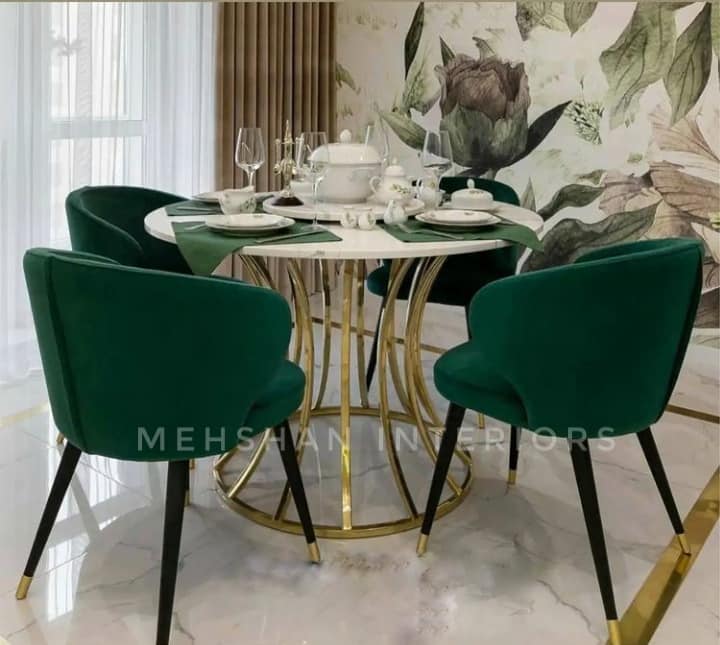 2. Rectangular Tables:
Rectangular tables don't take up as much space as round or oval ones do, so they work well in rooms with limited space for furniture or for smaller families who don't need to seat many people in our dining room.
Conclusion
The dining table is the most important piece of furniture in a dining room. It defines the space and provides a place to gather with friends and family.
The first step in choosing your perfect dining table is deciding what shape you want. Round tables are great if you have limited space or want to create an intimate setting. Rectangular tables are a classic choice that can easily accommodate more people. Oval tables are perfect for those looking for something unique or who have large families or need additional seating in their dining room.
This guide will help you decide on the perfect dining table for your home. It will take you through the different types of tables, their advantages and disadvantages, and how to choose the right one for your needs.
Dining tables are a staple in most homes. They provide a place to gather with friends and family, eat meals together, do homework, or work on projects together.
The dining table is also a focal point in any room as it is typically placed at the center of the room. As such, it can be an important design element that ties all other elements together in that room.